Concerts at Mt Duneed Estate
Mt Duneed Estate is proud to be the home of A Day On The Green in Geelong and the Surfcoast.
Good food, fine wine and great music in a magnificent location... welcome to a day on the green! Situated on a gentle slope looking down from the winery, theres nothing better in summer then a day on the green at Mt Duneed Estate. Nothing beats great live acts out in the open. Bring along a picnic rug, and enjoy some of the best that the music industry has to offer!
A glittering array of International and Australian stars have performed over the years providing unforgettable musical memories. a day on the green is far more than a concert event, it is an "experience" and that is what sets it apart.
Be sure to sign up as a Friend of Mt Duneed Estate, or follow us on Facebook and/or Instagram to keep up to date with what concerts are coming!
a day on the green runs in the summer months from November – March
A Day On The Green - Robbie Williams
Sat, 03/03/2018
Venue: 65 Pettavel Rd Waurn Ponds
Click HERE for more information
SOLD OUT!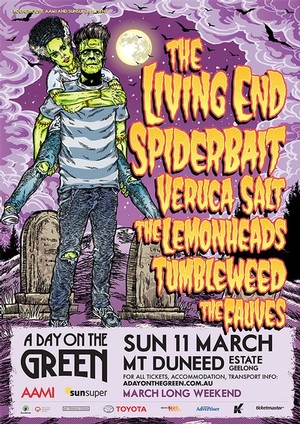 ALMIGHTY MONSTER ROCK LINE-UP
COMES TO A DAY ON THE GREEN
Mt Duneed Estate, Geelong
Sunday March 11 – Labour Day Long Weekend